Success Stories
---
RB
"RB" first appeared in our backyard in the late summer of 2011. He wouldn't allow us to approach him, but he seemed interested in our deck, and we'd sometimes find him sunning himself there. I began putting out food and water, which he would only eat after I'd moved away from it.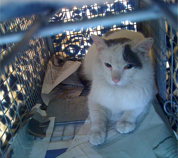 Though, at first, he'd hiss if I got too close, he gradually became comfortable enough to sit at arm's length while I filled his bowls. Over weeks and months, I let him initiate any contact on his own terms and timetable, until I was eventually able to pet him as he rubbed against my feet and legs. He really enjoyed this and soon insisted on an extended petting ritual before he would eat! Through the winter, he came whenever I called, meowing all the way to the deck, for his twice-daily petting/feeding sessions.
In April of 2012, Sue Pontani, of Stray Catz, loaned us a humane trap and showed us how to use it, so that we could trap RB and have him neutered, ear-tipped and inoculated by Stray Catz' veterinarian. Sue then cared for him for several days after his surgery. Here he is, during his recuperation –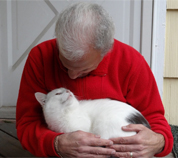 The T and N (Trap/Neuter) of T/N/R having been completed, it was now time for the R – Returning RB to his familiar habitat. I wasn't sure how he'd react to being released from the trap – whether he'd run off and we'd never see him again, or if maybe he'd come back weeks later. When we released him, near our deck, he ran a short ways down the hill, paused to look around, then walked back up the hill and onto the deck! It was a huge relief, as I'd gotten very attached to the little guy.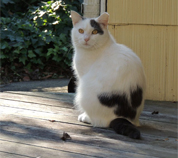 Since then, RB's taken up residence on our deck, and our bond has grown increasingly strong. He's gone from being, at very least, semi-feral to being a very affectionate, loving little friend. He has a heated house on the deck and, for the winter, heated food and water bowls. Here are the two of us resting after cleaning up some storm debris and minor damage the day after Hurricane Sandy –
We're hoping that someday RB will come and live indoors with us, but his giving up his freedom may just be too much to ask. Here he is today, happy and healthy, surveying his kingdom from "his" deck –
---
Kitkat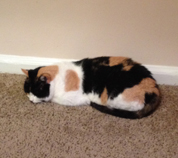 Kitkat came to us in May of 2007. My husband was outside by the pond and he came into the house and said a young, hungry looking cat was out back. All we had was canned dog food so he gave her some of that. Well, needless to say, as I predicted, she came back the next day and the next. I sought help from Stray Catz, Sue Pontani. She came and trapped Kitkat and took her to have her spayed. A week later she brought Kitkat back and she has been with me since then. She lives under the shed which my husband had enclosed on the bottom so she would have shelter. It took me a bit of time to gain her confidence to slowly come into the house and little by little she came in to eat and would stay a little while and then go out. She stays out at night but during the day she stays in the house quite a bit now. The older she gets the more she likes staying in,especially with the bad weather. Kitkat is sparkling clean!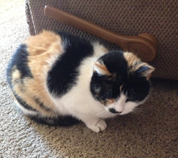 She is a very smart cat, she will look at her dish and if she wants me to add moist food to it she takes a few bites then goes to sit by the refrigerator where she knows her moist food is. She lets me know if she has to go out too. She has never had an accident in the house or scratched any furniture. She lets me pick her up and tell her i love her and she purrs with delight. I lost my dog in September of 2009 at the age of 16 and knew I did not want another dog but then I have Kitkat who is the best! -Eileen
---
Squirt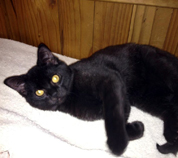 Sue and I were doing TNR in a yard in Hamilton when this black kitten showed up with his siblings. He was half the size of his siblings and he had an upper respiratory infection. We told the homeowner to get him and we would take him to the vet. She got him the next day, which was a Friday, and on Saturday I brought him to the vet.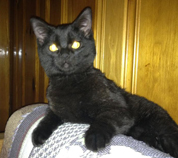 He was semi feral but was young so we were able to handle him and socialize him. The vet put him on medication and I kept him for about 2 months until he was well enough to be adopted. But by then, I fell in love with him and decided to keep him. What can I say, I am a known foster failure. My boyfriend named this little kitty Squirt because he was so small.
Squirt is now about 7-8 months old. He is an active kitty who is into everything. It is certainly an adventure having him in our household. Every day brings something new.
---
Cody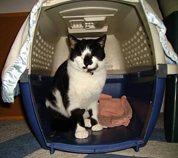 Cody found me one day in July, 2007 as I was riding my bike behind an abandoned shopping mall. I had just lost my 12 yr. old cat "Annie". He just appeared out of nowhere. The next day I contacted our animal control and he informed me he may belong to "Stray Catz" and gave me their contact info. Yes, he was one of their cats. (They called him "Jazzy") He lived with a skunk, a groundhog, and a few peacocks. Well I could not get him out of my mind; whenever I rode my bike there he would appear. I soon took over feeding him, every day, religiously. He won My Heart! I called him "Cody".
I took him home with me in November before the 1st frost. Stray Catz paid for all his inoculations, he was already neutered. The vet determined his age to be about 2yrs. He was now safe; he had shelter, a warm bed, and "Love". Every night we'd play and he loved belly rubs. I had at that time 2 other cats and 2 dogs. But Life had another path for Cody and me. Cody had a cancerous, inoperative muscle tumor which rapidly grew until I saw he had a problem walking. I knew what I had to do.
On a Beautiful day that June, my Vet had to give Cody "My Final Gift of Love" But As I held him close and he took his last breath, he knew he was more than just cared for as A Stray, A Feral, For the 1st time, though short, in his life. He had A Home; He was "My Cody" And He was "Loved". And Yes, We will meet again someday along with all my other beloved pets. And now I have devoted my time to Stray Catz, Inc. to care for other cats like "Cody". -Karen S. Woods
---
Sammy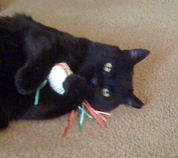 This is Sammy, A "Furrever" Little Man. Another unknown story. We TNR'd him about 2 yrs. ago, he was healthy and was placed with our Lady Sherry, A Beautiful Torty, She has since passed. He seemed lonely so when the bitter weather came a few weeks ago I know he had to come live with me. I took him to our Veterinarian and it seems Sammy had encountered in this twisted world, FIV.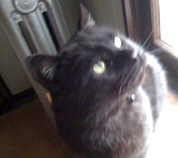 He now has his own room, he is happy, he has his own music, sunshine and plenty of toys. I put a shelf up for him where he basks in the sun watching the world go by with no more fear of the unknown. He loves to snuggle and purr. He has made the transition incredibly well.
---
Jake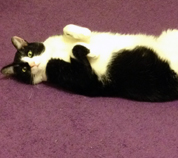 A "Furrever Ending" This is Jake. His Kitty "Mom" brought him and his 3 siblings into my yard, about 3 yrs. ago. I had been feeding Mom for awhile in my yard. We got her spayed, trapped and reunited her with the babies. All 3 have wonderful homes, Jake was adopted through our Petsmart in Windsor adoption day. His new Mom still keeps in touch with me. Jake has another kitty friend and they just got a new puppy a few months ago and all are doing Great.
---
Ozzie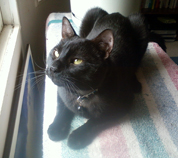 Furrever Kitty, this is Ozzie. We don't know his beginning, but we know his "Furrever" ending. He is with me. He was one of our TNR's but the R was with me. He is a sweet, and loves to lay on his back and have Belly Rubs. He's been with me for 4 yrs. and gets along well with my other kitties except when he likes to play a little rough, he's a Big Boy, and he loves my dogs!
---
Stray Catz, Inc. has been helping stray cats since 1987. Thousands of stray cats and kittens have been rescued, provided with medical care, and placed in forever homes. If you have adopted a cat or kitten through Stray Catz, and have a success story you would like to share, please send us an email!